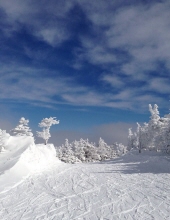 Obituary for Curtis O. Whipple
LANCASTER – Curtis O. Whipple, 78, formerly of Littleton, died Friday afternoon, December 31, 2019, at the Country Village Genesis Eldercare Center.

Mr. Whipple was born in Lisbon on September 10, 1941, the son of Herbert and Olive (Adams) Whipple. He was raised in Sugar Hill on the family farm, attended Dow Academy, and was a 1959 graduate of Littleton High School.

For a time he worked at local shoe shops and Martin's Cleaning. Most of his life he was a cook, working for the Continental 93, the Littleton Diner and Thayers Inn. Curtis enjoyed skiing on Cannon Mountain and snowmobiling.
'
Family members include his daughters Denise and Deb; a brother Herbie and a sister Jessie. He was predeceased by his wife Luanne.

Burial will be in the family lot in Sugar Hill in the spring.