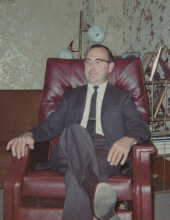 Obituary for Delwin R. Wood
ST. JOHNSBURY, VT - Delwin R. ("Mickey") Wood, 87, formerly of Lunenburg, died Tuesday morning, February 4, 2020, at St. Johnsbury Health and Rehabilitation Center.
Mr. Wood was born in Lunenburg, March 20, 1932, the seventh and youngest child of Reuben A. and Flora I. (Savoie) Wood. Industrious and responsible from his earliest years, he began to work in the fields at the age of 6 while attending school full time in order to supplement the family's income during the difficult era of the Great Depression. Following his graduation from Lancaster Academy in 1950, he began his own pulp-hauling business until the following year when he was drafted into the US Army during the Korean conflict, serving in Combat Infantry 82nd Engineering Department under Capt. Alexander. He was promoted to the rank of Staff Sergeant eight months prior to his honorable discharge.

After returning home, Delwin worked at the Gilman Mill and the Groveton Paper Company. He married Majel R. Finley on September 8, 1968, and then embarked upon a career in car sales and sales management, becoming well respected in the profession for over 25 years until his retirement in 1993. His employers included Robert Walker, Wayne Ford, Woodburn Chrysler-Plymouth, Barcomb Motors, and finally, South Main Auto in St. Johnsbury.

Delwin had a wide variety of interests and hobbies, but was most fulfilled when maintaining his home and devoting himself to the needs and comforts of his family. He is survived by his wife of 51 years, Majel R. (Finley) Wood and by his son, Ryan D. Wood (both of Lunenburg); several nieces, nephews, and cousins; numerous former customers and coworkers; and also by the staff of St. Johnsbury Health and Rehabilitation, who had become a second family to him during his courageous battle with Alzheimer's Disease.

He was predeceased by his parents, 6 siblings, and by two lifelong friends, Gerald P. ("Gerry") Bresnahan of Lunenburg and Leon P. Trottier of Lyndonville.

In lieu of flowers, the family requests that donations be made in Delwin's name to the Alzheimer's Association at https://alz.org.

There will be no calling hours and burial will be private and at the convenience of the family.