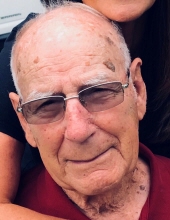 Obituary for Donald Eastman Crane
LANCASTER - Donald Eastman Crane passed away suddenly on May 1, 2019, at the age of 90.

Donald was one of four children born to Merle (Eastman) Crane and Kenneth Crane. He survived his two sisters, Merlene (Crane) Moody, and Edna (Crane) Bowers. His older brother, Kenneth Crane, was tragically killed in an accident at the age of 12.

Donald was married to his wife, Carolyn Sears Crane, for almost 70 years. Carolyn passed only seven weeks before Donald. They will be buried together at the Summer Street cemetery in Lancaster on Friday, May 24, 2019.

Donald will be remembered with love by his son, Kenneth Crane and daughter-in-law Jay-Ann Crane, and his daughter, Jordan Crane. Donald was the proud grandfather of five grandchildren, Chad Crane and Erica (Crane) Hicks, Jay Belmore, Kaili Crane-Belmore, and Tess Crane. He also enjoyed eight great-grandchildren, Griffin and Madison Crane, Haile, Tyler, Alexis and Benjamin Hicks, Kendyl Preston, and Mason Belmore.

Donald was born on March 20, 1929 in Stoneham, MA. He attended Lancaster Academy, and enlisted in the United States Navy following his high school graduation. He also completed numerous courses at Plymouth State College in the areas of municipal government and accounting.

Following his Navy service, he was employed by Western Union. Many Lancaster residents remember Donald best as Lancaster's youngest and longest tenured Town Manager. After 3 years as the Assistant Town Manager, he was appointed Town Manager in 1956 at the age of 27. He served his community and townspeople for 37 years before retiring in January 1992.

Donald loved children, and it wasn't unusual to see kids following him around like the fictional superhero, Pied Piper, when he served the youth of Lancaster as a Little League coach and an Explorer Scout Leader.

In 1991, the Speaker of the New Hampshire House of Representatives declared that Donald Crane be saluted and lauded for his lengthy and distinguished service to Lancaster as Town Manager, naming him an Outstanding New Hampshire citizen. This recognition was the collective opinion of his family, his friends, and his colleagues. The declaration stated, "WHEREAS a gentleman is defined as one of gentle and refined manner; a well-bred man of character and fine feelings."

When he wasn't serving his community and its residents, he thoroughly enjoyed spending time with his family, playing golf in the summer and skiing in the winter. In fact, he celebrated his 80th birthday by going spring skiing!

Donald was respected and admired by many, many people. He was a man of honor, integrity, fairness, consistency, and humility. In the eyes of his family, he was larger than life – strong, competent, humorous, kind, gentle, loving, and always, always the eternal optimist! He was deeply loved and cherished and will be missed beyond words.

The world was a better place with Donald Crane in it.

For anyone wanting to pay their respects, Donald and Carolyn Crane will be laid to rest together on Friday, May 24, 2019, at 11:00 a.m. at the Summer Street cemetery in Lancaster.
Previous Events
Graveside
Summer Street Cemetery
Summer Street
Lancaster, NH 03584