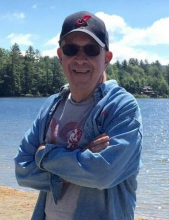 Obituary for Donald L. Discenzo
WHITEFIELD – Donald L. Discenzo, 78, died Tuesday evening, March 24, 2020 at the Littleton Regional Hospital after a sudden illness.

Mr. Discenzo was born in South Amherst, Ohio, on August 16, 1941, the son of Carmen and Mary (Taddeo) Discenzo. Raised in South Amherst he attended Kent State University and graduated with a Bachelors degree in business. For a time he worked for Progressive Insurance company before moving to Whitefield in 1966.

After moving he taught school for 2 years in Lancaster and Whitfield and then for 5 years he was the Resident Manager at the Mt. View Grand Hotel, Whitefield. In the early 1970's Don purchased Whitefield Hardware & Building and later expanded and opened Lancaster Hardware. He operated both businesses for many years until he retired in 2015.

For 25 years Don served on the Board of Directors for the Morrison Nursing Home, Whitefield. He was a charter member of the Whitefield Lions and longtime member of the Lancaster Chamber of Commerce. He was a Communicant of the Gate of Heaven Parish where he served on the finance and building committees. He also served as a corporator with the Bank of New Hampshire

Surviving family members include his wife Graceanne (Valentine) Discenzo of Whitefield; a son Darren Discenzo of Lancaster; a daughter Danielle Heeran and husband Brian of Keene; three grandchildren, Ashlee, Gracie, and Andi; a sister Carol Ann Eberhardt and husband Donn of South Amherst, Ohio; many nieces and nephews.

Services will be postponed until a later date.

In lieu of flowers donations may be made in his memory to the Whitefield Lions Scholarship Fund, PO Box 296, Whitefield, NH 03598.