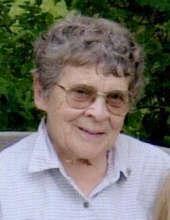 Obituary for Florence Fay Waterman Allin
LANCASTER - Florence Fay Waterman Allin came into this world on October 2, 1918 in Lancaster NH and lived a full 100 years, three months and 15 days before she passed away in the home she loved and lived in for more then 70 years.

The oldest of three children born to Ira H and Georgia Rich Waterman and the last to go, Fay was raised on a farm in Auburn, Maine with her sister Marion Waterman Meyer and brother Charles Waterman.
Fay studied by kerosene lamp and was in high school before she had electric lights. She drove horses to rake hay and learned the value of hard work.

Florence was born to be a teacher and when asked would say she never wanted to be anything else. She became Mrs. Allin to hundreds of young students over her career that spanned more then 50 years and began in a one room school in Maine then concluded in a first grade classroom at Lancaster Elementary School. But Mrs. Allin never really stopped teaching or learning and tutored students of all ages in her home well into her 80's. Mrs. Allin was a skilled instructor who explored with a passion every avenue to add to her knowledge as a reading specialist and to inspire students to learn. Reading is essential and she never gave up on any child. The hundreds of notes and letters of appreciation she saved over the years and though unexpected, did attest that she indeed made a difference in peoples lives.

Fay graduated from Edward Little High School and Farmington Normal School in Maine before stepping into that one room school in Perkins Ridge and she was there when Pearl Harbor pulled America into World War II.

Fay was married at Christmas time in 1942 to the true love of her life, Tilden C. Allin, a staff sergeant in the Army and his military service took her for a short times to Kansas and St. Augustine, Florida before he was shipped overseas. She taught in two more small schools Maine, a three room school in Stevens Mills and also in Green.

After the war, the Allins moved back to Lancaster and purchased the house on South Lancaster Road that meant a return to life on a dairy farm. Fay was recruited by the superintendent of schools as a substitute then became a full time teacher the following year. Their son, William came into their lives and he said of his mother that she was the best example of a good person that he has ever met. They knew tragedy when Til passed away suddenly in 1965.

Gram Fay was an excellent role model and took the time to create so many memorable experiences for her grands whether climbing mountains or splashing in the ocean at her favorite Popham Beach or cooking in her kitchen or to see tall ships. She welcomed adventures.

Fay was an avid reader with an extensive library. She loved animals especially dogs and her latest Pomeranian Zoey was at her side in the end. They had race horses (trotters) at one time. She loved to feed the birds and work in her vegetable and flower gardens. Even made her own bread.

Fay was determined to stay independent as long as possible. She mowed her own lawn, shoveled snow from her own driveway and ran her chainsaw to cut wood. Even mastered a microwave.

Fay was patriotic, always voted and attended veterans ceremonies. She was a faithful member of the Lancaster Congregational Church.

Fay leaves behind the three very much loved men in her life-her son Bill and two grandsons, Christopher Tilden and Jeremy William and equally loved were two great granddaughters-Mallory Lynn
Allin Blake (Darren) and Ashley Fay Allin. And her caregiver daughter-in-law Arlene Allln.

Extended family included nieces Claudia Waterman MacKillop (Paul), DianaLee Waterman, Lisa Simonds Grimes (Tom) and Lisa McGoff Whittemore (Bob) and a nephew Leonard Waterman (Barbara), the Flanagans in Missouri-Glenda (Bill) and their children Billy, Michael, Amanda, Andrew and Patrick, Sunny Armstrong, and Jim Gallagher (Sheila).

At her request there will be no funeral, however when warmer weather returns, the family plans a celebration of Fay's life and everyone will be welcome to attend.

For those who wish to honor her memory with a gift in lieu of flowers, the Stoughton Scholarship Fund at PO Box 284 in Lancaster, NH was one of her favorites. Also the Salvation Army she felt was helpful at war time so at holiday time when the buckets are out and the bells ring, drop in a coin or two and think of Fay Allin. One more important suggestion would be to find out what local libraries or schools could use for books and purchase some for readers in her name.