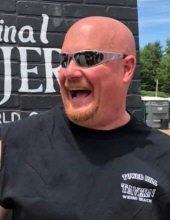 Obituary for Jeffrey R. Smith
JEFFERSON – Jeffrey R. Smith, 50, of Crow Road, died suddenly and unexpectedly while working in Berlin on Saturday, March 16, 2019.

Jeff was born in Manchester, NH, on June 20, 1968, the son of Philip L. Smith Sr. and Betty (Houghton) Smith, he was a lifetime resident of Jefferson. His passions in life were trucks and motorcycles. Jeff was a second generation, self employed truck driver for most of his working life, and was an avid biker in his spare time. He will be remembered for his signature blue and white Kenworth and voodoo blue Harley Davidson. He enjoyed having his friends hang out with him in his garage laughing and having a great time. He was loved by everyone that knew him and would help anyone because he had such a big heart


Surviving family members include his wife Michelle (Streeter) Smith of Jefferson; his mother Betty Smith of Jefferson; his daughter Samantha Smith of Derby, VT; his step-children Zackery Martin and Hayleigh Gonyer of Jefferson; two brothers, Bruce Simmons of California and Philip L Smith Jr.; and a sister Tanya Foster of Littleton. He was predeceased by his father Philip Sr.

A celebration of life will be held at his home at a later date.