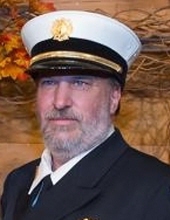 Obituary for Kevin Leonard Staines
JEFFERSON – It has been a long few weeks nay a long two years but Kevin Leonard Staines is finally at rest. He passed Monday morning, December 3, 2018, at Weeks Medical Center in Lancaster, he was 60 years old.

Born in Wallingford, CT, on June 13, 1958, he was the son of James Leonard and Delphine (Winans) Staines. Raised in Wallingford he was a 1976 graduate of Lyman Hall High School and served for several years on the East Wallingford Volunteer Fire Department.

In 1989 he moved to New Hampshire and worked for the Mt. Washington Cog Railway until 1997. He then went to work for Ron and Terry Germain at Germain's Satellite, Lancaster, eventually purchasing the business from them in 2005. Many will remember Kevin working long days with his favorite travel companion, his golden retriever Remy. Kevin worked until 2017 when he retired due to his failing health.

Kevin was a Lieutenant with the Jefferson Volunteer Fire Department where he served for 27 years. He was also a ham radio operator and collector of model trains.

Surviving family members include his wife of 37 years, Linda A. (Venezia) Staines of Jefferson; his father Leonard of Wallingford, CT; two sons, Christoper L Staines and Richard J. Staines, both of Jefferson; a brother Brian B. Staines of Glastonbury, CT; a sister Karen Lavertu of Rochester, NH; several nieces and nephews and 1 great-nephew. He was predeceased by his mother Delphine and a brother Michael K. Staines.

A celebration of life will be held Saturday, December 15th, starting at 4:00 PM, at the Jefferson Town Hall, Jefferson, NH. An additional celebration of life will also be held in Connecticut and announced at a later date.

Donations in lieu of flowers may be made in his memory to ALS Foundation for Life,
P.O. Box 96, Natick, MA 01760 or the Jefferson Fire Department, Jefferson, NH 03583.
Previous Events
Celebration of Life
Jefferson Town Hall
698 Presidential Highway
Jefferson, NH 03583