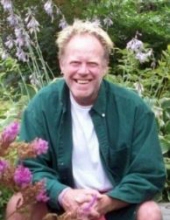 Obituary for Laurence Daniel Gates
Laurence Daniel Gates, 60, of Jefferson, New Hampshire died on April 12, 2019 leaving behind a community grateful for his many contributions and boundless enthusiasm for life. Danny passed away at the University of Vermont Medical Center after a brief illness.

Danny was born on May 25th, 1958 in Nashua, New Hampshire. He graduated from Shepherd Hill Regional High School (Dudley, MA) in 1976 and attended the University of Massachusetts Agricultural School at Stockbridge. He lived in Manchester, New Hampshire, Huntington Beach, California, New York City, and Lahaska and Bedminster, Pennsylvania before finally relocating to Jefferson to be closer to his parents in Lancaster. He left a business he established in New York City, The Factory, which sold high end clothing to other retailers and then opened the Boutique in his barn selling off the remainder of his line.

Danny was preceded in death by his life partner, Costume Designer and Playwright Howard Crabtree, in June, 1996 and his mother, Jean Gates in October 2016. He is survived by his son, James Wilkins of Littleton, New Hampshire, his father Larry Gates of Concord, New Hampshire, his brother Bill (Carla) Gates of Amherst, New Hampshire, another brother Randall Gates (Lou McLaren) of North Ferrisburgh, Vermont and a sister, Reana Nice of Telford, Pennsylvania. He also leaves two nieces, two nephews, one grand-niece and one grand-nephew.

Danny's time in Jefferson was marked by the joy he had in raising his son, James, flowers and goats and finding ways to serve his community. He founded Cold Moon Springs Creamery and sold his goat cheese to restaurants in Boston and New York City. He worked at the Lantern Motor Inn and had fabulous gardens as well as those he maintained at Santa's Village. Drivers on North Road would often slow down driving past his home trying to catch of glimpse of what color he had arranged in his many gardens. For several years he organized a garden tour for the Lancaster Congregational Church where he arranged with other gardeners to open their gardens for an afternoon tour.

Danny always made himself available for the Street Fair and the Olde Tyme Christmas events in Lancaster. He brought his goats for a petting zoo and helped with the hay wagon rides. Danny was a Deacon at the Lancaster Congregational Church and each Easter Breakfast found him flipping pancakes and serving his famous corned beef hash. Danny spearheaded the beautification of Jefferson by helping children plant seeds and filling barrels to decorate the center of town and he worked with the Weeks Memorial Library by selling donated books on line to help fund the Book Endowment Fund.

Danny's ashes will be transported to Liberty, Missouri where they will be interred with those of Howard Crabtree. A community celebration of Danny's life is scheduled for May 1st at 1:00 p.m. at the Lancaster United Congregational United Church of Christ.
Previous Events
Service
Lancaster Congregational United Church of Christ
142 Main Street
Lancaster, NH 03584