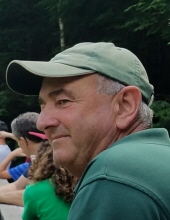 Obituary for Matthew P. "Matt" Smith
LANCASTER, NH - Matthew P. "Matt" Smith, 53, of Garland Road, passed away suddenly the afternoon of December 31st.

Matt was born in Lancaster on August 15th, 1965, the son of Paul A. and Mary L. (Burbank) Smith who predeceased him. He was a graduate of White Mountain Regional High School and served in the U.S. Army from 1983 to 1987 where he was honorably discharged. For a time he worked as a stone mason and was employed at F.B. Spaulding, Lancaster. In 1991 went he to the Thompson School of Applied Science at UNH earning a degree in Animal Science and Agronomy. He utilized his skill at Agway Inc., Peaslee's Vermont Potato, and Northeast Agriculture.

Matt enjoyed farming, agronomy, visiting with friends, walking in the woods looking for sheds, and exploring the wilderness of the Kilkenny range. He was a Communicant of All Saints Church, Lancaster and was a director and recently voted Vice President of the Lancaster Fair. He was a devoted livestock director of the fair for over 25 years. Matt was quite proud of his vast collection of glass milk bottles and dairy memorable from local dairy farms. He was known for his culinary genius and was an all around good guy. Matt enjoyed being back at Garland Brook Farm that has been in his family for many years.

He is survived by his son Andrew, his wife of 25 years, Barbara, and his sister Connie, and most famously remembered by a vast magnitude of "Matt-isms"; his clever comments that many of you may be familiar with.

A Mass of Christian Burial will be celebrated Saturday, January 19 at 11:00 AM at All Saints Church in Lancaster. Reverend Matthew Schultz, pastor will officiate.

A Celebration of Life will be held in the spring and announced at a later date.

In lieu of flowers please make donations in his memory to the Matthew Smith Memorial Scholarship, Attn: Town of Lancaster, % Trustee of the Trust Fund, 25 Main Street, Lancaster, NH 03584.

Please feel free to share your favorite "Matt-ism".
Previous Events
Service
All Saints Church
163 Main Street
Lancaster, NH 03584