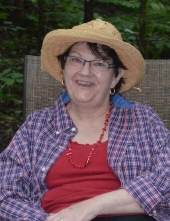 Obituary for Paulette Watkins
BLOOMFIELD, VT - Paulette Watkins, 67, died unexpectedly Saturday, March 2, 2019.

Paulette was born in Washington, DC on August 30, 1951. She was the daughter of Paul and Ila Kanode of Falls Church, VA. After living in several states, her family settled in Falls Church, VA where she graduated from George Mason High School in 1969.

She worked in Washington, DC in the banking industry and for an International Consulting firm before becoming a wife and mother. On August 9, 1980, Paulette married Bill Watkins of Falls Church, VA. They relocated to Cambridge, MD in 1985 where they spent the next 26 years before retiring to Bloomfield, VT in 2011. While raising their son and three daughters, Paulette passionately supported several endeavors. These included: serving as a girl scout leader, leading various children's activities at church, homeschooling her daughters, and being a part of anything her kids were involved in. One of Paulette's greatest passions was helping to establish a crisis pregnancy center which supported and educated mothers in need.

She is preceded in death by her parents, Ila (Noble) and Paul Kanode, and by her brother "little" Johnny Davis.

Surviving family members include her husband William (Bill) Watkins, her children Matthew Watkins, Catherine Sawicki, Sarah Tolley, Rebecca Hailey, and their spouses. She is also survived by 14 grandchildren… Morgan, Madison, Jessica, Will, CJ, Jaylynne, and Austin Watkins… Ila and Andrew Sawicki… Elizabeth (Ellie) Tolley… Logan, Lelah, Daisy, and Caleb Hailey… and great grandson Kendrick Fuller. Paulette is also survived by her sister Pat Moore, brother Jerry Davis, and sister-in-law and high school classmate Barbara Blood, as well as many nieces, nephews, and cousins. Lastly, she is survived by her very best friend of 58 years, Cathy Carpenter.

Paulette's life was guided by her relationship with Jesus and her numerous church families. Her greatest accomplishment was spreading joy to everyone she met. She never knew a stranger and she always "loved to laugh."

A Celebration of Life will be held on Saturday, March 16 at 11:00am. The service will be at Grace Community Church, 300 Gale St. Canaan, VT. A luncheon will follow.

In lieu of flowers, please send donations to Bailey Funeral Home, 210 Main St. Lancaster, NH 03584, for memorial contributions to help defray funeral costs.
Previous Events
Service
Grace Community Church
300 Gale Street
Canaan, VT 05903