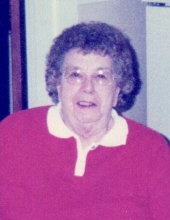 Obituary for Pauline J. Emery
LANCASTER - Pauline J. Emery, 95, formerly of Canal Street, died Tuesday morning, December 17, 2019, at the Country Village Genesis Eldercare Center.

Mrs. Emery was born in Dalton on June 5, 1924, the daughter of Albert Henry and Jess (May) Collins.

Pauline was a bread and pastry cook for the White Mountain Regional School District for many years. She was a member of the Lancaster Fireman's Auxiliary, the NH Food Service Association, and the Rebekah's.

Surviving family members include a son Roger Emery and wife Lynn of Maidstone; a daughter Rona Glines and husband Murray of Lancaster; 3 grandchildren and their spouses and significant other, Christian Glines and Dawn Russell, Nicholas and Stephanie Emery, Mitchell and Britny Emery; and 3 great grandchildren, Madisyn Emery, Keene Emery, and Victoria Emery. She was predeceased by her brothers, Earl, Randall, Arthur and Layford Collins and her husband Roger N. Emery.

A graveside service for Pauline and Roger will be held in the summer.

In lieu of flowers donations may be made Pauline's memory to North Country Home Health & Hospice Agency, 536 Cottage Street, Littleton, New Hampshire 03561.