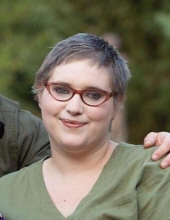 Obituary for Rheba Reynolds
BRATTLEBORO - Rheba Reynolds (Aine), 27, died late Thursday, February 6, 2020. She was born in Lancaster, NH on June 16, 1992 to Michelle Willey and Richard Gillespie Sr.

During her early years, Rheba enjoyed traveling coast to coast with her parents in their tractor-trailer truck. She attended school in Granby, enjoying the one-room schoolhouse. She was later homeschooled for a few years before moving to the southern part of Vermont. There, she attended Jamaica Elementary as well as Leland and Grey. She was there for a number of years before transferring to Lyndon Institute in Lyndonville.

Rheba enjoyed sewing, knitting, and crocheting. She became involved in volunteering with local fire departments as a teenager. She started out as a Junior Firefighter In Jamaica, then later earned her Level 2 certificate with Vernon. She was a fierce activist for the LGBTQ+ community, and advocated for the doors to remain open at Brattleboro Retreat. She wrote an article that was released in multiple news outlets before her passing. She enjoyed spending time with her service dog and designing dog gear.

Rheba married Brandon Leonard on April 15, 2009, they had three children together; Alexandria Michelle, Andromeda Lila Ruth, and Bishop Rhodes. They divorced in 2016.
Rheba remarried in December of 2016 to Robert Reynolds the day after Christmas, surrounded by their children. Robert and Rheba had two children together; Arlen Joel and Sterling Rose Joyce.

Rheba is survived by her husband Robert, her children and her stepchildren. Her mother, father, and her brother Damien, her grandmother, Joyce Willey, as well as her aunts and uncle, along with her cousins.

Rheba was predeceased by her uncle, Joel Willey, her paternal grandparents, her great grandmother, Leah Austin, and a great-great aunt whom she loved dearly, Ruth Noble.
Memorial visiting hours will be held at the Bailey Funeral Home, 210 Main Street, Lancaster, Wednesday, February 12, from 4:00 to 6:00 PM.
Previous Events
Visitation
Bailey Funeral Home
210 Main Street
Lancaster, NH 03584