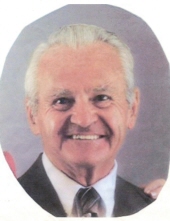 Obituary for Robert A. Grimard
DALTON - Robert A. Grimard (Bob), 92, of Forest Lake Road, passed away on July 2 with his daughters at his side. Evelyn, his wife of almost 70 years, passed away two years ago.

Robert was born on September 12, 1926 in Gorham, NH. He was raised in Lancaster and had been a long time resident of Dalton. He was one of 6 children born to Joseph and Vitaline (Robidoux) Grimard. He was predeceased by all of his siblings, Roger, Theresa, Rita, Norman and Raymond.

Robert was most fortunate to return to his home at Forest Lake at the end of April after spending a lengthy time in the hospital battling bouts of pneumonia. He had 2 months of eating what he wanted, supervising the planting of a garden, riding on his pontoon boat, walking around the grounds checking out his flowers and progress of his garden, visiting with relatives and friends, sitting on his porch watching activities on the lake, playing cards, and last but not least, loving where he was!! His family was also fortunate to have this special time caring for him and sharing memories of past years.

At a young age Robert dropped out of school and began working at the mill in Gorham, NH, fabricating his age to begin a long career of working. The expression "jack of all trades" but "master of none" could be applied to Robert with the exception that he was "master of many trades". He loved to work and experienced many job opportunities during his lifetime, all involving being outdoors! He built two homes and remodeled his "camp" at the lake. He was very proud of the fact that he used lumber and timbers from the old house on Dalton Mountain to build his first home. Visitors always heard the story of those beautiful beams that are exposed in the living room.

Robert became very successful with his ownership of Grimard's Used Cars and Parts. He also enjoyed operating trucks and heavy equipment. After he retired from the car business, he started Grimard's Flea Market and truly enjoyed this venture. Many people that had known him over the years would stop to visit along with new patrons from far and near. He later named his property Lazy Acres!

Robert and Evelyn had a home built in Cape Coral, Florida in the 1980's. They wintered there for over 30 years and enjoyed the best of two worlds returning to Dalton in May to spend summers at Forest Lake.

Robert served as a selectman for the town of Dalton, was past member of the Elks Club, and served as Commander for the Whitefield American Legion. He was a Communicant of St. Matthews Church in Whitefield where he was married in 1947.

Robert leaves his daughters Joanne Hennessey and Jean Bergin, and son-in-law Robert Bergin, grandchildren and spouses Derek Hennessey, Beth Hennessey Reynolds and husband Rob, Jameson Bergin and wife Ruth, Jon Bergin and wife Kate and 8 great-grandchildren, Andrew, Livia, Madelyn, Lucy, Zachary, Jack, Annika, and Matthew. He leaves nieces and nephews and a brother-in-law Conrad Daigle and sister-in-law Barbara Grimard. His niece and nephew Pauline Belanger Chapman and Raymond Belanger and wife Faith were especially close to "Uncle Bob" and visited him during his illness and supported the family through this time of sadness. Pauline was a frequent visitor to the family card games that her uncle enjoyed! A dear family friend, Donna Hartford, visited and supported the family. He truly loved these family members and friends and they were a very important part of his life.

The staff at Weeks Medical Center and North Country Home Health and Hospice became an integral part of the family, caring for him and supporting his family. Robert often commented on how lucky he was to be receiving the wonderful care that he received from all of these people.

His passing has saddened the hearts of his family and friends but has left them with years of wonderful memories. His legacy will live on and they will all strive to begin each day with the smile that he became well known for!

A Mass of Christian burial will be celebrated at St. Matthews Church in Whitefield on Friday, August 2 at 1:00 PM. Reverend Matthew Schultz, pastor of the Gate of Heaven Parish, will officiate. Burial with military honors will follow in St. Matthews Cemetery, Whitefield.

In lieu of flowers donations may be made in his memory to a charity of one's choice.
Previous Events
Service
Saint Matthews Church
9 Jefferson Road
Whitefield, NH 03598
Cemetery Details
Location
St. Matthews Cemetery
Elm Street
Whitefield, NH 03598