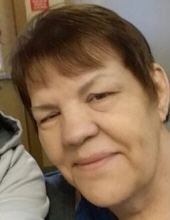 Obituary for Susan F. Dean
JEFFERSON, NH – Susan F. Dean, 68, of Presidential Highway, died at her home Wednesday afternoon, January 9, 2019, after a period of failing health.

Mrs. Dean was born in Providence, RI, on November 4, 1950, the daughter of Stuart and Beverly Grace (Borland) Rice. Her schooling in Rhode Island included Tollgate Elementary, Gorton Junior High, and Warwick Veterans High School. She also attended White Mountain Community College earning an associate degree in Business Administration and Accounting. She also held an associate in message therapy. Susan was a former owner of CMS (Construction Materials Testing) in Whitefield, NH.

She was a member of the Whitefield Library, the Red Hat Society, and the Rock and Mineral Society. Susan believed in holistic medicine and enjoyed every kind of arts and crafts including cross stitching, painting, drawing, sewing, and beading. She also enjoyed cooking and spending time with family and friends. She was a loving and devoted wife, mother and grandmother.

Surviving family members include her husband Richard C. Dean of Jefferson, they were married on May 30, 1970 in Warwick, RI; 3 children, Jeremy Edson Dean and wife Sandy of Jefferson, Heather Susan Greenwood and husband Daniel of Dalton, Richard Capwell Dean Jr. and wife Mina of Jefferson; 2 brothers, Stuart Louis Rice Jr. of Jamestown, RI, William Francis Rice of Lovell, ME; 6 grandchildren, Emma Joy Dean Wotton and husband Eric of Jefferson, Madyson Rose Hopps McCarthy and husband Cody of Whitefield, Matthew Stuart Hopps of Whitefield, Sakura Dean of Jefferson, Meghan Hopps of Whitefield, Jonathon Dean of Jefferson; and nieces and nephews, Meghan Chase, her husband Kevin and their daughter Marin of West Warwick, RI, Saralyn Rice-Hallin, her husband Eric and their son Sabien of Portsmouth, NH, Christina Braga of Warwick RI, Edward Davis and wife Chris of Warwick RI, William Costa of Concord VT, Michael Costa of Twin Mountain NH, and Katie McMann her husband Jarred of Jefferson NH

Services will be held at the convenience of the family. Donations in lieu of flowers may be made to the New Hampshire Food Bank, 700 East Industrial Park Drive, Manchester, NH 03109.