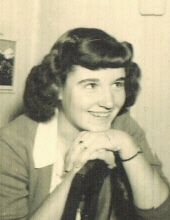 Obituary for Reta Bresnahan
LUNENBURG - Reta Montgomery Bresnahan, 87, of Colby Road, Lunenburg, VT, died at Weeks Medical Center in Lancaster on Tuesday, Feb. 11, 2020. She left this world in peace on the birthday of her firstborn son, the late Bob Bresnahan.

Reta was born in Burlington, VT, on January 28, 1933 and was adopted at the age of 1 by her parents, Royal and Ila Montgomery. She spent her early years in Stark, NH, where her father's family had long resided. The family then moved to Lancaster when Reta was still young, first to a small farmhouse on Stebbin's Hill Road and later to a home on Water Street. Reta planted an oak tree as a young girl that still stands in front of the house today. She spent her formative years helping her hardworking mother, practicing piano, and discovering what would be a lifelong disdain for milk, thanks to the poorly insulated family icebox. Reta was surrounded by strong and adventurous women in her early years- her mother Ila, her Aunt Ruth, and her grandmother Manettie- who all shaped the woman she became. Reta carried forward the lessons of the women she sometimes called "the old ones" to her entire family, but especially to her daughters, granddaughters, and great-granddaughters, who are all so strong because of her.

Reta attended Lancaster Academy, where she met Gerald (Jerry) P. Bresnahan who would become her husband of 68 years. Reta and Jerry were married on Sept. 8, 1951 and would go on to have nine children together. While Jerry was known for his work ethic, Reta was the backbone of the family. She supported her husband in his dedicated career as a papermaker, worked to raise their children, and cared for both of her parents. Reta and Jerry's home on Bridge Street was always full of activity. Reta developed close friendships with her neighbors and was known to have fresh donuts and bread available for anyone who popped into the dooryard. She instilled a deep love for music, theater, and the arts in her children and grandchildren. The home that Reta created was filled with warmth and love. It was a place where there was always a tune drifting off the front porch, an extra seat at the dinner table, a spot to kick off your muddy boots, or a sink to clean your fish.

Reta was an involved member of the community and the Catholic Church. She was a talented and practiced oboist, pianist, organist, and vocalist. She was a member of the local handbell ensemble, North Country Chorus, Jefferson Community Chorus, and the choir at All Saints Church in Lancaster, which she later directed. Best of all were her duets with Jerry at home surrounded by family and friends.

Reta enjoyed reading, hiking, drinking the infrequent "G & T," playing cards, and enjoying a breezy day on the porch. One of Jerry and Reta's favorite stories to tell was of how they enjoyed fried chicken and cans of coke after hiking to the summit of Mount Washington. After their children had grown, Reta and Jerry decided to build their dream house, overlooking Lancaster, in the hills above Lunenburg, VT. Jerry and Reta worked tirelessly constructing the long and beautiful slate stone walls around their new property while enjoying the view. Their new home had enough space for their large family to return for visits anytime, and they did.

We will remember Reta for her poise, her intelligence, and her wonderful sense of humor. She was known for never complaining and for always remembering her lipstick. Reta was famous for insisting that a very mean family dog was actually a very good dog, if you just got to know him. She was a devoted wife and friend to her husband Jerry, who loved her very much. She was a great friend to so many, always listening and showing interest in the lives of others. All of her friends and family were so lucky to count her as part of their lives. We are all better because of her.

Surviving family members include seven children, Michael Bresnahan and his wife Margaret of Lunenburg, VT, Rebecca Haskins and husband Terry of Richmond, NH, Timothy Bresnahan and wife Marcella of Flagstaff, AZ, Andrew Bresnahan and wife Debra of Liverpool, NY, Suzanne Bresnahan of Charlestown, NH, Carol Gillen of North Woodstock, NH, Peter Bresnahan of Dorchester, MA, Linda Bresnahan of PA; her 16 grandchildren; 12 great-grandchildren; brothers-in-law and sisters-in-law, William Bresnahan and wife Patricia of Medway, MA, John Bresnahan and wife Barbara of Yorktown, VA, James Bresnahan of Monroe, CT; and many nieces and nephews. She was predeceased by her husband, Gerald Bresnahan; two sons, Thomas Bresnahan and Robert Bresnahan; her granddaughter, Reta Haskins; brothers-in-law and sisters-in-law, Millard Bresnahan and wife Della of Gilman, VT, Donald Bresnahan and wife Joan of Gilman, VT, and Marie Bresnahan of Monroe, CT.

Visiting hours will be held Friday evening, February 14 from 5 to 7 p.m. at the Bailey Funeral Home in Lancaster, NH. A Mass of Christian Burial will be celebrated Saturday February 15 at 11 a.m. at All Saints Catholic Church in Lancaster. Following the service, there will be a reception for friends and family held at the Mountain View Grand Clubhouse. Father Matthew Schultz will officiate. Burial will be in the spring at Summer Street Cemetery.

Donations in lieu of flowers may be made to the Pine Hill Singers, C/O Judy Abbott 60 Bishop Road, Littleton, NH 03561.


Previous Events
Visitation
Bailey Funeral Home
210 Main Street
Lancaster, NH 03584
Service
All Saints Church
163 Main Street
Lancaster, NH 03584
Cemetery Details
Location
Summer Street Cemetery
Summer Street
Lancaster, NH 03584